A Varied Thrush visits the bird feeding station
One of the greatest joys I have is found just outside my kitchen window: my bird feeding station. Every day I am visited by dozens of delightful, appreciative feathered guests who drop by for a snack, a drink or a bath. The pleasure these birds provide is immeasurable and my interaction with nature is a lovely and truly rewarding experience.

|

__

Action on the deck

Birding is one of the most popular hobbies in the world. While it can be fun to travel to faraway places to spot a new species of bird, a simple bird feeder in the back garden can be very rewarding. I have set up numerous different feeders including hanging and attached logs, a table, suet cages as well as water dishes of various sizes. I have also attached numerous branches and twigs to the deck railings to give the birds a place to land and perch.

|
A Hairy Woodpecker looks for suet
By supplying different types of food, different species of birds pop by every day. Woodpeckers love the suet that I place into holes drilled into a log, hummingbirds visit all year long enjoying their fresh nectar water, and a couple of Steller's Jays call daily to remind me to put out a few unshelled peanuts while other birds feed on sunflower seeds.
|
A magnificent Northern Flicker became accustomed to humans
Over time, many of the birds started to accept my presence and became very approachable, deciding to stay rather than fly away when I went out onto the deck to replenish the food supply. I was surprised when the Northern Flicker stayed by its suet while I spread out sunflower seeds on the bird-feeder table. What an exciting moment! How rare it is to be so close to such a magnificent creature.
|
A delightful Red-breasted Nuthatch is hand-fed some small balls of suet
The Red-breasted Nuthatches, small, short-tailed birds with sharp beaks, gradually became accustomed to me and some would stop their feeding while I approached then happily take a little suet right off my hand. Eventually, one nuthatch would come to me each time I wandered outside, so now I always take a treat out with me.
|

|

__

Chestnut-backed Chickadees visit for some suet

The Chestnut-backed Chickadees started to act the same way, landing on my outstretched hand for a small ball of homemade peanut-flavoured suet!

|
Ruby-crowned Kinglet
One of the biggest surprises was when a little Ruby-crowned Kinglet allowed me to get close enough for it to eat off my hand after visiting for only three days.

This little bird truly amazed me as it seemed to come to the window to tell me it was here and that I should go out with some suet treats. It never came onto my hand, but would land on a branch and pick off a bit of suet that I offered. It was very surprising when it started to follow me to other branches on the deck, where it would perch and reach for two or three small pieces of food. What a feeling it is to have these birds almost like pets, but knowing they are wild and free. Being so close and able to enjoy their delicate manners and beautiful plumage is such a wonderful privilege.
|

|

Male Downy Woodpeckers

__

Left: Male Northern Flicker; right: Female Hairy Woodpecker

It was a very special time when the woodpeckers started to visit. Downy Woodpeckers, small black and white birds with a red spot on the back of the male's head, were the first to come and enjoy some suet. Then came the Hairy Woodpeckers, similar to the Downy but bigger, and along came some Northern Flickers with their handsome markings and the characteristic red moustache on the male.
Male Pileated Woodpecker
But one of the most truly amazing and thrilling visitors was the Pileated Woodpecker, a large, stunning bird with an almost prehistoric appearance.
|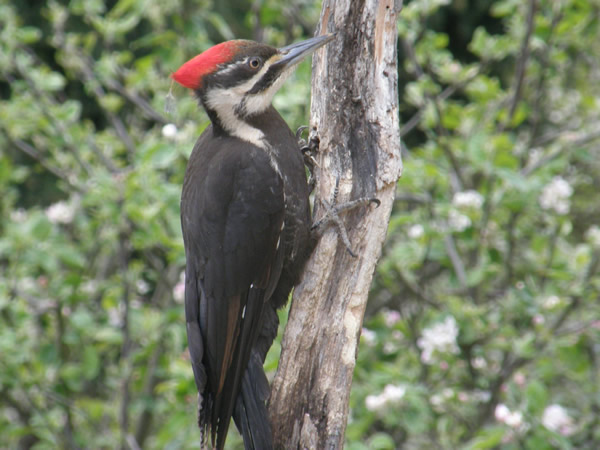 Female Pileated Woodpecker
Mrs. Pileated, identified by the lack or a red moustache, made daily visits. If there was no food left, she'd wait on a wooden archway in the garden while I put out more suet, returning to have lunch as soon as I left.
|
Female Pileated Woodpecker and her young
Eventually she brought junior to visit and feed! What a thrill it is to see mother feeding her young one, although you have wonder how there are no accidents with those huge bills!

The Pileated Woodpeckers have been bringing their young for three years now, and I'm confident they will be visiting again in this and in future years.
|
Chestnut-backed Chickadee, Audubon Warbler, Female Hairy Woodpecker, Female Northern Flicker
There are numerous other stories and tales to tell involving the joy of birds. So remember, you certainly don't have to travel hundreds of miles to enjoy, observe and appreciate birds. There can be a wonderful world of nature right outside your window!
~ by Nature Guy